Working on it.



Bram's pages:
History Bram van Gilst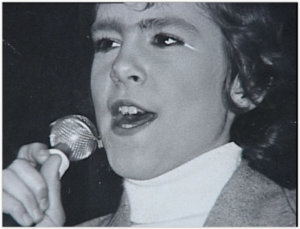 (Extra MP3 file for if SoundCloud doesn't work on your device)
Bram van Gilst live Dordrecht 1972 KRO radio "Ik hou van Holland"
Below, a clip with Bram van Gilst, again on a KRO radio-show, with presenter Edvard Niessing in the 80ies, with 1,5 milion people listening to the show, performing Gerry Rafferty's "Baker Street". A few weeks before, Bram had done the performance on KRO television and 6,5 milion people in the Netherlands saw him live.
This part of the website I have especially created to give attention to the life story of my good friend and brother Bram van Gilst. This boy had as an originally very talented singer and later also as a pianist and drummer inhumanly much troubles and difficulties, when he had to deal with psychoses during an important phase of his life. This resulted in a great career that lay ahead for him and was also originally predicted as so, completely in the doldrum. We will go deeper into this within these pages.
The Dutch section already has some info under its buttons in the header